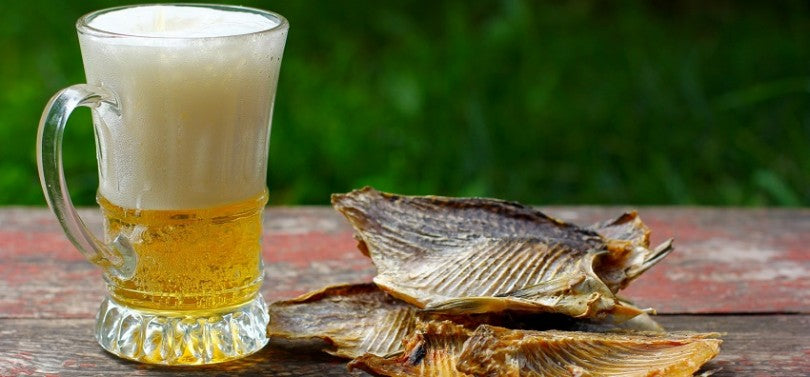 Pairing fish and beer in the best way
After the pairing pizza and wine, why don't we take into account how to pair fish and beer?
Conservatives do not be horrified! The wide craft beer production offers a wide range of beers with different characteristics. From the black toasted stouts, to the fruity IPA up to the red ones, each style has its own characteristics.
Different beer styles show the precise type of production, organized into different categories: production method, organoleptic characteristics, malts and hops. As wine, to make a good pairing of food and beer it is sufficient to choose the most suitable style without prejudices.

Birra Gourmet: a style for each dish
In the last years the world of craft beer has known a real boom, so that today it is paired with fish dishes even in the starred restaurants. It is not a chance that Assobirra and Gambero Rosso decided to publish a specific guide on the pairings beer-food. In Birra Gourmet there are five categories: Beer and Raw Food, Beer and First courses, Beer and Fish, Beer and Meat, Beer and Cheese. It is the living proof that any food can be paired with this drink.
North Europe offers us different examples of pairings of beer and fish, crustaceans and seafood. In Belgium different types of beers are perfectly paired with the traditional mussels (mules), whereas in Great Britain the crustaceans are served with full-bodied and alcoholic beers.
How to pair beer and fish?
Raw Lager
Gold blond, slightly bitter with a low alcoholic volume. It is the right beer for important fishes but also for light recipes with delicate flavours like roasted bass, salt sea bream, turbot, steamed cod or light fish soup.
Pils
The well structured body of this low fermentation beers, make them perfect for fat and savory dishes such as fried fish, with squids, shrimps, seafood or mixed. But also fleshy fish with strong flavors like freshwater fishes (living in lakes or rivers) as they are well hopped and bitter.
Strong Lager
Its aroma and the high alcoholic note is perfect with fat seasoning to offset the fatness of the cocktail of shrimps and of the salmon served with mayonnaise.
Pale Ale
Fruitier and floral beers; its hoppy notes and a moderated alcoholic volume make them suitable for gentle aromas and sweet notes such as squids guazzetto, wine octopus or with potatoes, shellfish and potatoes.
Bock
Dark and strong, characterized by a high alcoholic volume and a specific maltation. They are perfect for strong, savory or grilled dishes. Clear bocks, strong, able to keep the lightness of the food. They are perfect with grilled fish because they paired with the smoked and grilled taste that fish and crustaceans absorb. The richest dishes prefer amber Bocks, pared with vicentina or livornese style codfish, stewed cuttlefish or herring.